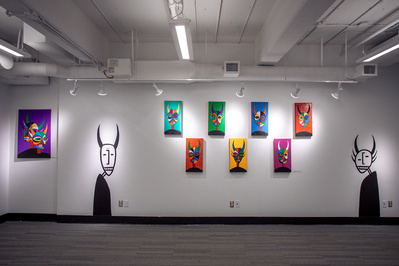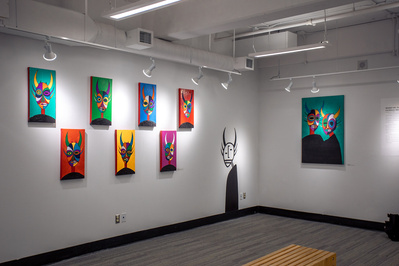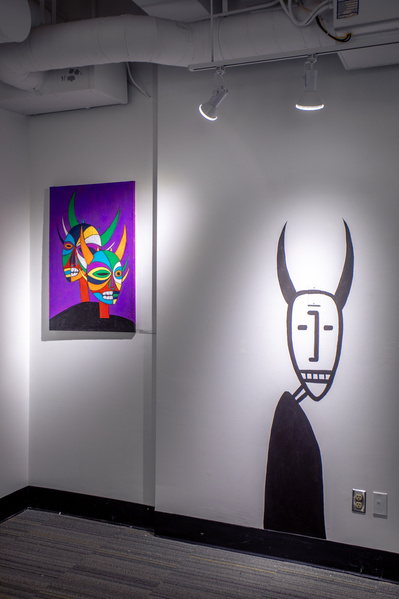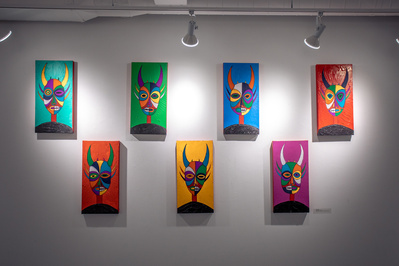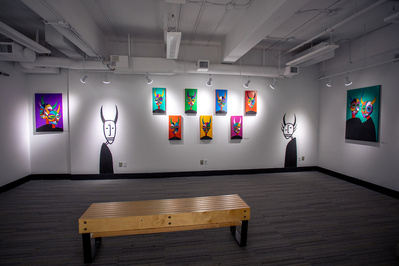 MASKS ON: Exploring the Afro-Caribbean Diaspora
Curated By Ashley Waithe
Masks On brings the cultural influences of the Caribbean to the contemporary art sphere through Pixel Heller's body of work. Heller is a Toronto-based emerging Candian- Caribbean artist who works in mixed media paintings and focuses on their connection to their ancestry within the Caribbean and Black Diaspora. Masks On contains eight new artworks including 7, 1'x2', all depicting colourful masked figures. A red border and vibrant, bold colours entrap each mask within the artwork.
Art Historian, Krista Thompson explores this understanding of Caribbean representation through the theoretical concepts of the Sublime and the Picturesque. "To me, many representations of the Caribbean, of both the sublime and the picturesque, were precisely about the presentation of beauty and its stunning visual effect, which resulted ultimately in the blinding of the viewer, blinding them precisely to the violence, horror, and terror that made the
Caribbean" (176).
This exhibition is concerned with understanding how the masks present themselves as representations of one's connection to their displacement. To some, they can be stunning works of art, to others, masks are representations of terror; this is again synonymous with how we view the Caribbean in a post-colonial framework. Through her work, Pixel Heller dives deep into what it means to be a Caribbean descendant, living as a member of a black diaspora and finding a way
to connect to home.